TOP

>

Chapter19 FILMING LOCATION IN RAKUNAN AREA
Kyoto's Film Culture and History
Chapter19
FILMING LOCATION IN RAKUNAN AREA
The south part of Kyoto is called Rakunan. This area has many unique filming locations that no other areas can offer.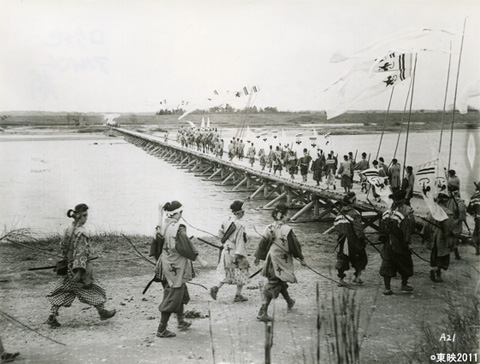 Place:Yawata City - Fushimi-ku Kyoto City
<Shooting in the Nagarebashi [Ikoku-Monogatari Himaraya-no Maou] (1956) >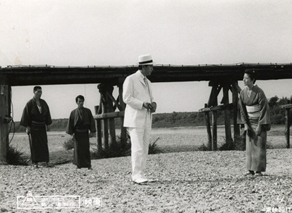 [Hibotan Bakuto Tekkaba Retsuden(The Scarlet eony Gambler a Series of Cases in the Gambling Room)](1969)
One of the popular locations there is "Nagare-bashi" or the "low water bridge" on Kizu River. This is a rare floating type bridge in Japan. Its formal name is Kozuya-bashi and is the longest wooden bridge in Japan with the length of 356.5m and the width of 3.3m.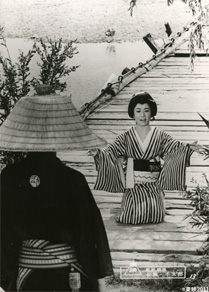 [Shin Hebihime-sama Oshima Sentaro (A Sequel to the Snake-Princess Oshima Sentaro)](1965)
As its name shows, when the river is flooded, the bridge's girders are easily washed away by the water and the bridge floats like a raft. This long bridge without parapets and no tall buildings around it gives a special atmosphere and serves as a famous filming location for period dramas. Sometimes this place is used for shooting a scene of Tokaido Trunk Road by superimposing the picture of Mt. Fuji. This bridge is also used as a meeting spot in some movies.
Going downstream, the Kizu River meets with Uji River. Further down, the river meets Katsura River and finally becomes Yodo River. Walking around this place, you will find that many movies consisting of river scenes have been filmed here.
There are many more filming locations in Rakunan besides "Nagarebashi".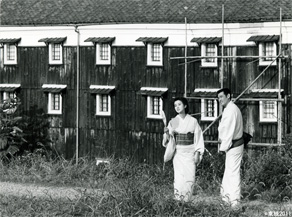 [Yogisya(A night train)](1987)
Firstly, it is "the group of sake store houses in Fushimi". Fushimi area was developed as a cross point of boat transportation between Osaka and Kyoto. The place is famous for the historical incidents such as "Teradaya Inn incident involving Ryoma SAKAMOTO". The name Fushimi literary means "underground water". Therefore, the area has prospered by Sake production utilizing the high quality underwater since old days. The group of sake store hoses exhibits special atmosphere and adds to the landscape and serves as a good filming location for many movies.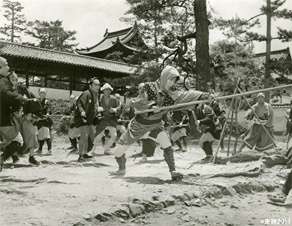 [Ayaushi ! Kaiketsu Kurozukin(Black Hood the Wonder Man in a Critical Moment)] (1960)
A river bank near Kangetsu-kyo Bridge and Gokonomiyajinjya Shrine are some of the other filming locations in Fushimi.
Uji city is located next to Fushimi. Obakusan Manpukuji Temple in Uji is very unique in that its buildings are located in the large premises creating Chinese style landscape and are often used as filming location.
---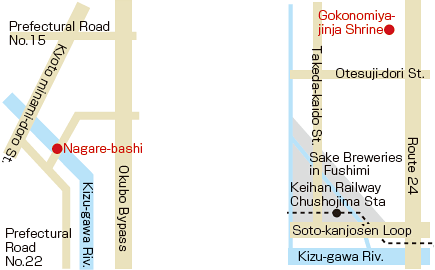 ---

Kyoto boasts a hundred years of filmmaking history and more than 10,000 films (including TV productions). The majority of these projects were filmed at locations in and around the city.
The ancient capital is therefore filled with film locations. They include World Heritage sites such as Nijo Castle, the five major Rinzai temples, and Shimogamo Shrine, historic landscapes in Sagano, Higashiyama, and Nishiyama, dotted with many temples and shrines, beautiful water scenery on the Kamo and Katsura Rivers, geisha quarters and streets of machiya (tradesmen's houses), and narrow alleyways where ordinary people lead their lives. For a hundred years, the camera hascaptured these images.
Seen from a different perspective, however, Kyoto has still more attractive locations for shooting. The city landscape is undergoing rapid change while its historic and natural scenery remain intact. Such views provide limitless possibilities for new types of dramas.
---