TOP

>

Chapter18 THE MONUMENT OF KENJI MIZOGUCHI
Kyoto's Film Culture and History
Chapter18
THE MONUMENT OF KENJI MIZOGUCHI
Kenji MIZOGUCHI is one of the world famous movie directors in addition to Akira KUROSAWA, Yasujiro OZU and Mikio NARUSE. Many people engaged in movie production including GODARD, a French movie director have visited the places associated with MIZOGUCHI.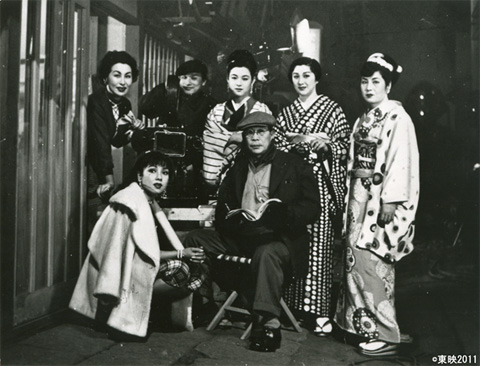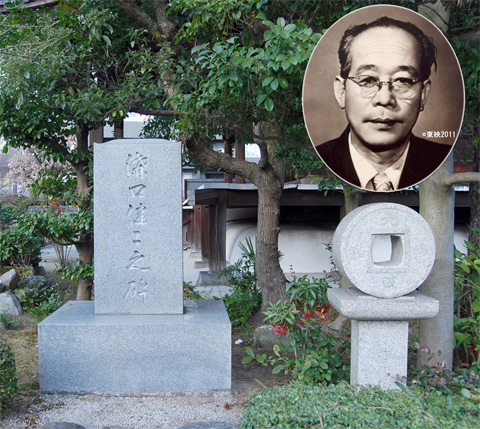 The monument of Kenji MIZOGUCHI
Place:Manganji Temple (Okazaki Hosyoji-cho Sakyo-ku)
Manganji Temple is located in a quiet residential quarter on the street that runs in the south of Heian Shrine. The monument of Kenji MIZOGUCHI is next to the main temple hall. The monument bears the phrase "World famous movie director". The name of Masakazu NAGATA, the president of Daiei Film Company who dedicated this monument is also seen here. The description on the back of the monument says that he won the Fourth Order of Sacred Treasure. There is another stone monument in the shape of a coin where the four characters meaning "Osaka Monogatari" are inscribed. When Mizoguchi was preparing for the movie "Osaka Monogatari", he was hospitalized because of leukemia. Ganjiro NAKAMURA was expected to appear in this movie and his name is inscribed on this monument, too.
Mizoguchi used many long footages and scripts that expressed deep human thoughts. He was very accurate in historical authenticity. His attitude of not compromising the quality of his movies is evident in the way he used to calmly ask actors to redo a scene again and again. This resulted in creating internationally recognized excellent works. Many movie directors in the world don't hesitate to confess that they were influenced by him. Many movie staff of Kyoto supported him in his works. Some of his bones that had been buried in Kyoto were moved to Tokyo, his hometown. However, his love for Kyoto is symbolized here at Manganji Temple. Several well known temples are scattered in the south of Manganji Temple which have served as good filming locations.
---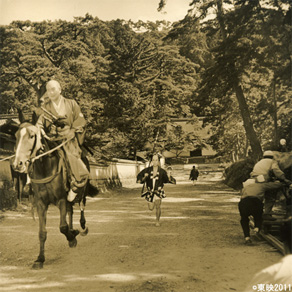 [Isshin Tasuke Otoko no naka no Otoko ippiki
(Tasuke a Real Man)]
Nanzenji Temple is a head temple of Nanzenji denomination of Zen sect. This temple has been a popular filming location for a long time. The slope in front of Nanzen-sodo Hall was used for a scene where a horse used to run. The road running to the north of the branch temples of Nanzenji served as the grand avenue of the capital in a movie.
The brick-made "Waterway of Lake Biwa Canal" runs through the premises of the temple. This structure provides a retrospective atmosphere for the movie scenes typical of Kyoto.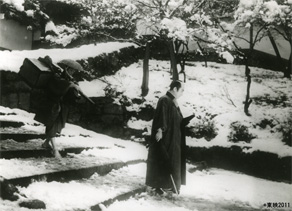 [Zoku Akojyo (A Sequel to Ako Castle)](1952)
Shorenin-Monzeki Temple is a temple that belongs to Tendai sect and is located in the south of Sanjo Street. Recently this temple attracted attention because the Ao-fudo-myo-oh Cetaka was opened to public. Its Nagayamon Gate and the camphor tree planted next to it which is designated as a natural monument by the city give special atmosphere and has served as excellent filming location for many movies.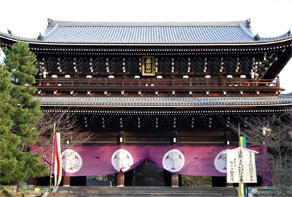 Chionin Temple
Chionin Temple is the head temple of Jodo sect and is located to the south of Shorenin-Monzeki Temple. The temple has the biggest Sanmon Gate in Japan and is designated as a national treasure. This gate and a long stone staircase extending from it appeared in a Hollywood movie named "Last Samurai" (2003 Warner Brothers). The north gate surrounded by stone masonry was often used as the gate of the residence of feudal lords in Edo or as the entrance of a castle.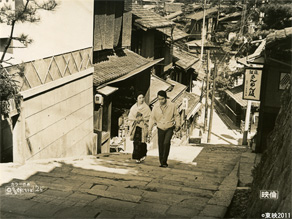 [Kotoyusyu Aneimouto (The Old Capital Melancholy the Sisters) 1967)
Furthermore, "Yasaka Shrine" and "Maruyama Park" also have served as filming locations for many movies. "Yasaka-no-to" pagoda at Hokanji Temple, a landmark of Kyoto, Sanneizaka Slope, and Kiyomizu Temple, both registered as World Heritage sites, are located along Higashiyama Mountain range and serve as a belt of filming location sites.
---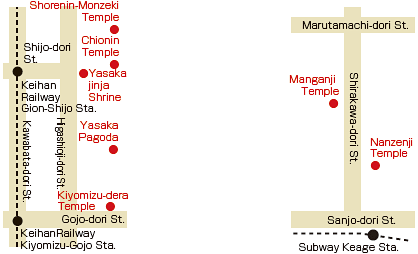 ---

Location hunting is the most time-consuming process in the shooting preparations after a screenplay has been completed. Where are the scenes specified in a screenplay filmed? They are roughly grouped into three categories: outside locations, stage sets, and outdoor sets. Whether for a period or contemporary drama, this process often takes four weeks. If no suitable location can be found for a specific scene, an outdoor set is built at an optimal site. You may want to know where a particular scene in a film was shot, but in some cases the set was torn down just as soon as the shooting was finished.
---