TOP

>

Chapter14 FILMING LOCATIONS IN THE AREA FROM HOZUKYO VALLEY TO KIYOTAKI
Kyoto's Film Culture and History
Chapter14
FILMING LOCATIONS IN THE AREA FROM HOZUKYO VALLEY TO KIYOTAKI
There are many beautiful valleys in Kyoto suburbs. Why don't you go there to enjoy the popular filming locations while feeling tranquil in the lap of beautiful nature?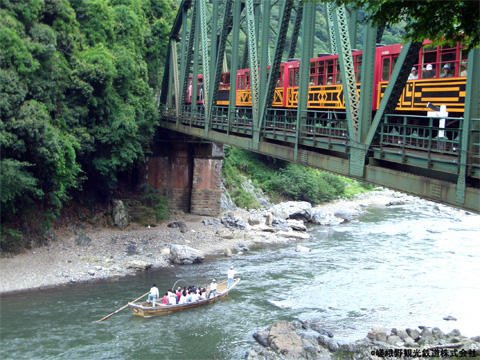 Place: Hozukyo - Kiyotaki - Takao
Firstly, cherish the sightseeing. Hop on an open tram called Sagano Torokko Ressha, and admire the beautiful scenery of Hozukyo Valley on the way to Kameoka. Go back to Arashiyama, by a boat on a rapid stream of Hozu River. This boat tour called Hozugawa-kudari is one of the popular tourist attractions which can often be seen in movies.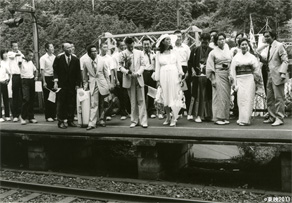 [Kamata Koshinkyoku (The March in Kamata Studio)](1982)
The JR Hozugawa Station has a beautiful view of the valley. It is an unmanned station in the middle of mountains and has a special atmosphere. Taking advantage of the rich vegetation and the absence of people in the place, various scenes of movies have been shot here.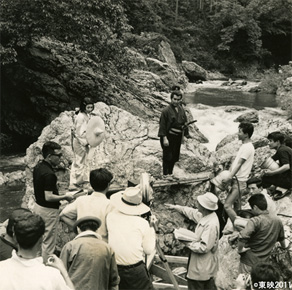 [Miyamoto Musashi Ganryujima no Ketto
(Musashi V)](1982)
From here, the hiking course starts.
At the confluence point of Hozu River and Kiyotaki River there is a place called Ochiai. The rapid stream and steep rocks of this place make it a good filming location spot for period epochs and suspense dramas. A well maintained path along Kiyotaki River takes you to the upstream deep in the mountain. The river exhibits various faces such as rapid and limpid stream, rocks and the banks which are suitable for many scenes such as battles and romantic scenes.
A village called "Kiyotaki" is located around the upstream of Kiyotaki River. A bus service is available between here and Arashiyama. "Kuya no taki" waterfall located near Mt. Atago is also a good filming location for scenes of divinity.
Famous for autumn leaves, Takao area is located further north of Kiyotaki. Since many historical sites are scattered around here, many movies were shot here.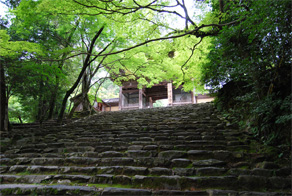 Takao-san Jingoji Temple
One of these historical sites is Takao-san Jingoji Temple located on the upper hills. The temple is linked to two well known priests, Kukai and Saicho. Its stone staircase leading to Sanmon Gate, Kondo Hall, Tahoto Pagoda, Daishido Hall are some of the favourite filming locations for TV period dramas such as "Zenigata Heiji", "Mito Komon" and "Onihei Hankacho".
Both Makio-san Saimyoji Temple and Togano-o-san Kozanji Temple are designated as the UNESCO World Heritage sites. Togano-o-san Kozanji Temple is famous for the well known "Choju-giga" drawing. Both temples are also among the favourite filming locations.
These two temples and Jingoji Temple compose three historical spots providing beautiful sceneries to this area and will continue to appear in movies.
---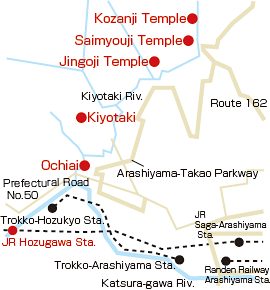 ---

In recent years, film commissions have been established in many towns and cities in Japan to attract film and TV productions. The majority of film commissions promote specific and relatively small locations. By contrast, Kyoto is in and of itself one huge location. The same sites have been used time and time again in different movies over the city's century-long history of filmmaking.
The confluence of two rivers in a place called Ochiai has appeared in hundreds of films. However, most movie goers don't realize just how often. That's where the magic of filming lies. Depending on the story, Ochiai has been filmed from different angles and in different situations. It has been used for mountain scenes in some films and valley scenes in others.
Visit the place yourself to see the great variety of angles the location offers.
---