TOP

>

Chapter13 FILMING LOCATIONS IN SAGANO
Kyoto's Film Culture and History
Chapter13
FILMING LOCATIONS IN SAGANO
There are a lot of famous temples with long history and typical old Japanese sceneries in Sagano. These historical landscapes have served as excellent filming locations because of their closeness to movie studios in Uzumasa.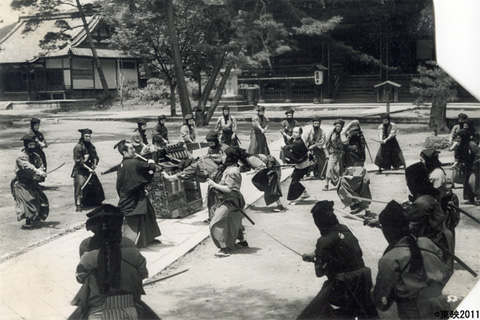 Filming locations in Sagano
<Shooting in the Seiryoji Temple[Wakasama Zamurai Torimonocho Ma no Shibijin Yashiki](1956)>
Seiryoji Temple is known for its wooden Buddha statue and for the training center of Yuzu-nenbutsu. It is also called Saga-Shakado. This temple has several spots which served as filming locations for movies. These spots include Hondo building, Kyogen stage, and Sanmon gate where a big red paper lantern was once boldly hung to portray as Sensoji Temple in Edo. It is a wonder that in the movie, this temple looks like Sensoji Temple.
10 minutes walk from Seiryoji Temple, you will find Daikakuji Temple, an old palace for Emperor Saga. The temple is the head of Daikakuji denomination of Shingon Sect of Buddhism.
From the past until today countless numbers of movie scenes were shot here. If you are lucky, you may run into the shooting scene of some movie. All the corners of the temple premises such as Akechi Gate, a pine tree along the wall, a clean stream and the gorgeous temple buildings are picturesque.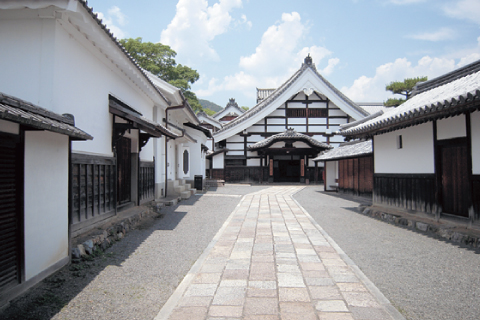 Daikakuji Temple(Akechi Jinya)
---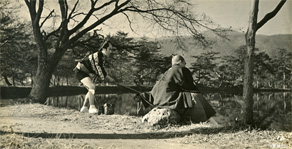 [Isshin Tasuke Otoko no naka no Otoko ippiki
(Tasuke a Real Man)](1959)
Located in the east of the temple is Osawa Pond which also has served as popular filming location for period dramas.
This temple can provide various scenes alone. This is one of the reasons why this temple is so popular as a filming location.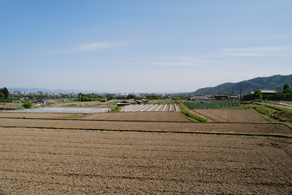 Sagano(Historical Climate Special Conservation District)
Walking to the east along the mountain from Daikakuji Temple, the plow land comes into view. Seeing this will make you feel like having slipped back to the past.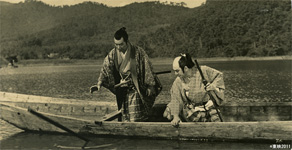 [Fuji ni tatsu kage](1957)
This area is designated as the "Historical Climate Special Conservation District" by the city of Kyoto. "Hirosawa Pond" is located at the point where this road and Ichijo Street crosses. This pond also serves as a popular filming location for period dramas and was assumed to be a port or a river bank. I am sure that you have seen such scenes a couple of times in the period dramas on the TV or movies.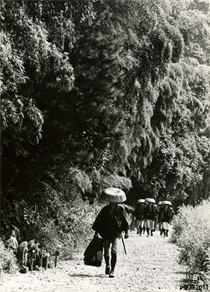 [Kogarashi Monjiro](1972)
This area still maintains the natural taste of Sagano strongly. Not only the pond, but also the mountain covered by bamboo and other trees next to it is used for shooting scenes of period dramas.
---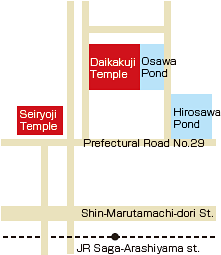 ---

Mitate is one of the characteristics of filmmaking in Kyoto. Simply put, mitate means using one thing to represent something else. Many Japanese period films are set in Edo (present day Tokyo) during the Edo period; however, most of these were produced at studios and other locations in Kyoto. Of course shooting in the ancient capital to represent scenes from Edo requires that locations be chosen carefully and scenes be shot cleverly so as not to give away their true identity. By way of example, Osawa Pond has been used to represent Shinobazu Pond in Ueno or the Sumida River. Buildings are no exception. Part of Daikaku-ji temple was used as the Shogun's harem in Edo Castle, while the Akechi-mon Gate of the temple was used as the gate of the suburban residence of a major daimyo. When existing buildings weren't what was needed, outdoor sets that made good use of the landscape were built to fill the bill. You may wonder which temple was used to shoot a particular scene, but it's quite likely that the "temple" you saw in the film disappeared as soon as shooting was finished.
---