TOP

>

Chapter10 SITE OF DAIEI KYOTO STUDIO
Kyoto's Film Culture and History
Chapter10
SITE OF DAIEI KYOTO STUDIO
After World War II,following the movie release of "Rashomon" which was directed by Akira KUROSAWA, many Japanese movies won international prizes and entered into the golden age. Most of these prize winning movies were produced here in Kyoto. Why don't you visit the memorable place that triggered the spread of Japanese movies in the world?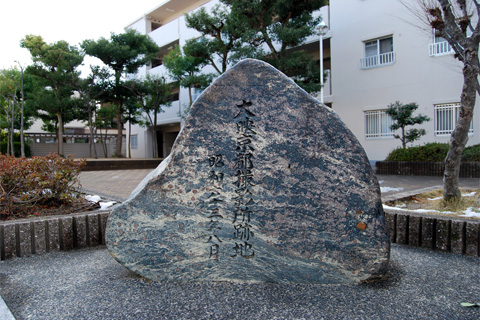 Site of Daiei Kyoto Studio
Place: Around Uzumasa junior High School (Uzumasa Tayabu-cho Ukyou-ku)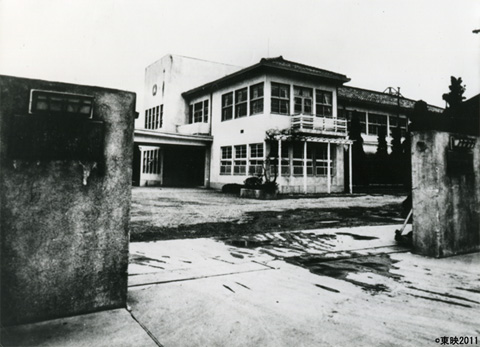 Daiei Kyoto Studio
Uzumasa Tayabu-cho is located between "Uzumasa Koryuji" Station and "Katabiranotsuji" Station. A stone monument bearing the script "Site of Daiei Kyoto Studio" is standing here. These studios were originally built as Nikkatu Uzumasa Studio in 1927. However, three movie companies, i. e., Shinko Kinema, Daito Eiga and Nikkatsu Production were merged and formed Daiei in 1942 because of the influence of the austerity measures taken by the government during the war.
Actors and actresses such as Raizo ICHIKAWA, Shintaro KATSU, Machiko KYO, Fujiko YAMAMOTO made their debut here. In 1960s series movies such as "Nemuri Kyoshiro" "Akumyo" and "Zato-ichi" were produced here. Later in 1971, Daiei went bankrupt because of the decline of movie business and it closed the curtain of its brilliant history. This movie studio left great footsteps in the history of Japanese movies.
---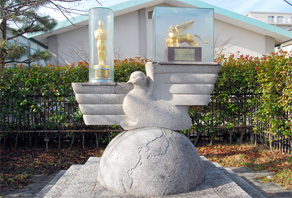 "Grand Prix Place" monument
Let's follow these footsteps by walking two minutes from the stone monument to the gate of Kyoto Municipal Uzumasa Junior High School. Beside the gate, there is a corner named "Grand Prix Place" where one can see a monument bearing the design of Gold Lion and Oscar statuettes, and the description of the awards. This is to commemorate that the movie "Rashomon" won the grand prix at the Venice International Film Festival in 1951. Following this, many movies such as "Tale of Genji" directed by Kozo YOSHIMURA in 1951; "Jigokumon" by Sadanosuke KINUGASA in 1953, "Ugetsu Monogatari" and "Sansho-Dayu" by Kenji MIZOGUCHI in 1953 and 1954 which were produced here won international prizes in Venice and Cannes. This proves that the level of movie production of Kyoto is one of the highest in the world.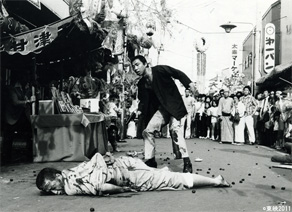 [Jinginaki Tatakai]
(Combat Without a Code)(1974)
Heading north from "Grand Prix Place", you will find a shopping street called "Daiei Street Shopping Arcade". This street that runs from the east to the west is named after this movie studio where movie studios existed in the past and exist even today. Therefore, there are many shops related to movie business in this shopping arcade. The people managing the shops in the arcade have been so cooperative with the movie production. Many noisy scenes such as the one in the movie "Jinginaki Tatakai" was been shot here. The contents of "Kyoto Uzumasa Story "directed by Yoji Yamada with the participation of Ritsumeikan University students in 2010 focused on this shopping arcade. (Daiei Street Shopping Arcade URL:http://www.kinemastreet.com/)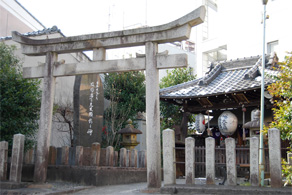 "Sankichi Inari"
There is a small shrine along the arcade which is related to the movie production locally called "Sankichi Inari". Its formal name is "Sankichi Inari Daimyo-jin, Nakazato Hachiman Daibosatsu". When Nikkatsu movie Studio was constructed here in the early Showa Era, two statuettes of deities were found on the site. Some people related to the movie business enshrined these two statuettes. If you look carefully, you will find the names of great movie stars including Denjiro OHKOCHI, Takako IRIE and Junzaburo BAN on the fence around the shrine. A monument bearing the inscription " In honor of Shozo MAKINO" stands inside the premises. The monument bears the names of people who erected it including the names of two brothers, Hiroyuki NAGATO and Masahiko TSUGAWA, the grandsons of Shozo MAKINO. Uzumasa is a place which has prospered together with movie business. Many footsteps of past movies are left here, and many new movies are still produced here.
---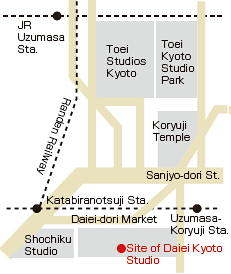 ---

Motion pictures are a composite art. Producing a film requires not only directors and actors, but a host of other talent from a number of areas. Filmmaking in Kyoto has enjoyed great support from such talent. The most prominent were cinematographer Kazuo Miyagawa (1908-1999) and art director Yoshinobu Nishioka (1922-). These two individuals embodied the traditional characteristics of filmmakers in Kyoto: rich knowledge and experience, and a keen sensibility combined with dependable skill. However, tradition is only effective when challenged. A good example is seen in "Enjo"(1958) Starring Raizo Ichikawa (1931-1969) and directed by Kon Ichikawa (1915-2008). For the final scene, in which the protagonist sets Kinkaku-ji, or the Golden Pavilion, ablaze in his belief that the fiery sight would be perfection in beauty, Miyagawa and Nishioka racked their brains for a way to render this ephemeral beauty on film. Finally, they decided to blow gold dust high up into the night sky, creating an impressive monochrome image combining tradition with incisive modern aesthetics.
---