TOP

>

Chapter09 TOEI STUDIOS KYOTO
Kyoto's Film Culture and History
Chapter09
TOEI STUDIOS KYOTO
What is the place called "Japanese Hollywood" in a song in early Showa Period? Yes, it is Uzumasa in Kyoto. Who established the first movie studio in Uzumasa...?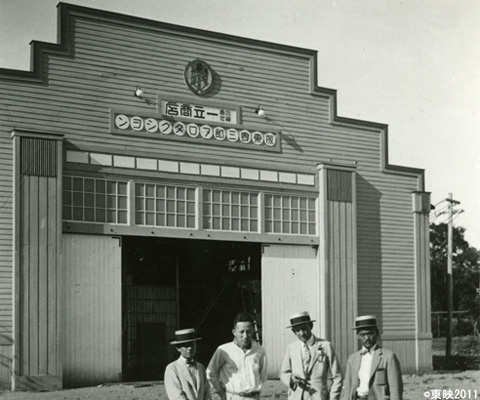 Bando Tsumasaburo production(Former Toei Studios Kyoto)
Place:Uzumasa Hachigaoka-cho Ukyo-ku
Previously, Uzumasa area used to be called Uzumasa Village of Kadono County which was covered with bamboo forests. Bamboos in this area were cut and a movie studio was constructed by Tsumasaburo BANDO, the king of cloak-and-sword drama in 1926. In the previous year, the first movie production run by an individual actor was established here by Mr. BANDO. Since then the movie studio has experienced twists and turns until today. Here is its history.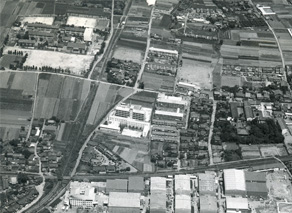 Toei Studios Kyoto in about 1958
1926-1930 Ban-tsuma Production's Uzumasa Studio
1930 Shochiku Uzumasa Studio
1930-1931 Tei-kine Uzumasa Studio
1931-1942 Shinko Kinema Uzumasa Studio
1942-1947 Daiei Kyoto Daini Studio
1947-1951 Toyoko Eiga Studio
1951- Present Toei Studios Kyoto
---
At the beginning of their carrier, Toei Studios Kyoto were heavily indebted and people thought they won't be able to recover from the debt. However, the drastic budget policy adopted by Hiroshi OKAWA who became the president of Toei under the leadership of Mitsuo MAKINO, a brother of the director Masahiro MAKINO revived the Studio. The studio was used by such actors like Chiezo KATAOKA, Utaemon ICHIKAWA, Kinnosuke NAKAMURA, Hashizo OKAWA, Ryutaro OTOMO, Chiyonosuke AZUMA, Hibari MISORA, Kotaro SATOMI, Koji TSURUTA, Ken TAKAKURA, Tomisaburo WAKAYAMA, Junko FUJI, Bunta SUGAWARA, Hiroki MATSUKATA, Kinya KITAOJI, and Tsunehiko WATASE; and by directors including Sadatsugu MATSUDA, Masahiro MAKINO, Tomu UCHIDA, Yasushi SASAKI, Tomosaka TASAKA, Tadashi IMAI, Tai KATO, Tadashi SAWASHIMA, Hisakazu KONO, Eiichi KUDO, Kosaku YAMASHITA, Hideo GOSHA, Kinji FUKASAKU and Sadao NAKAJIMA. These people have supported Toei Company and the golden age of Japanese movies.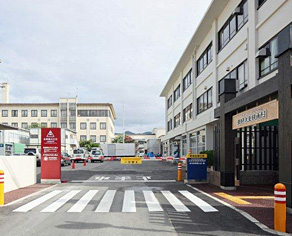 The main gate of Toei Studios Kyoto today
Going through the gate of Toei Studios Kyoto, you will find "Haiyu Kaikan" or the actors' hall ahead of you. This is the place for actors to make preparation for shooting and wait for their turns. To your left, the production department building will appear, and to the right is the building of art department and the restaurant. Actually this studio has everything needed for movie produce except film development section. Since period dramas are often taken here, companies that deal with wigs, Kimono and old furniture are also located here.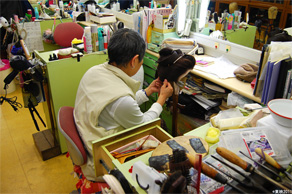 Swords used in the movies are made of bamboo for the sake of safety. These bamboo swords are easily damaged. In order to repair them, the craftsmen of Kozu Shokai Company were stationed here who used Silver leaf for this purpose. This technique has been inherited from the time of Makino and is still used in movies and TV dramas today.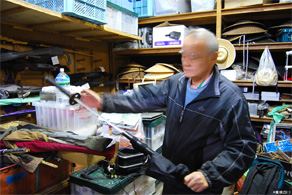 At present, these studios are basically closed to public. However, one can see the entire premises of these studios on the occasion of Uzumasa Cinema Festival and other related events.
(Please find the information at http://www.uzumasacinema.net/)
---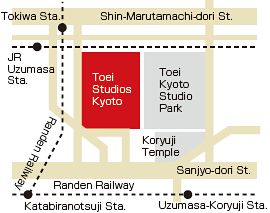 ---

Covering an area of more than 66,000 square meters, Toei Studios Kyoto is the largest film studio in Japan. In the golden years of Japanese film, from the late 1950s to the early 1960s, the Toei film company's main studio in Kyoto had to produce more than 60 films every year to compete with other film companies in Japan, which in those days each produced a double feature every week! The staff sacrificed Sundays and holidays, often working throughout the night on weekdays as well. The Kyoto studio was so filled with energy that people said: "No one walks at Toei Studios Kyoto; everyone runs."
---