TOP

>

Chapter07 STATUE OF SHOZO MAKINO
Kyoto's Film Culture and History
Chapter07
STATUE OF SHOZO MAKINO
Why was Shozo MAKINO called the Father of Japanese Movie? There is a good place for you to find out his great contribution in the pioneer days of movie production.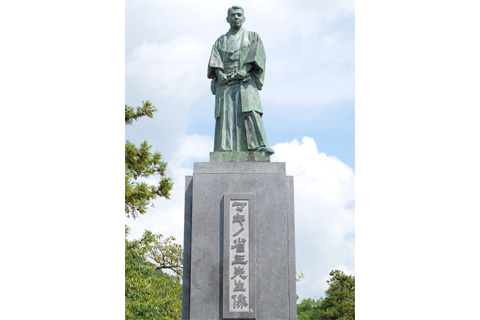 Statue of Shozo MAKINO
Place: Tojiin Temple(Tojiin Kita-machi Kita-ku)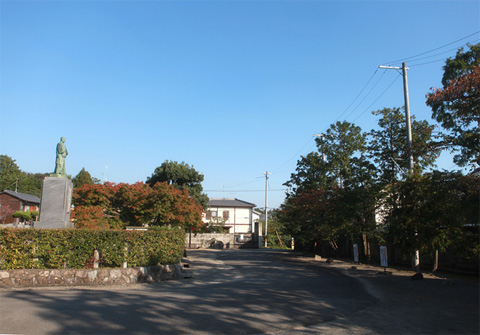 Tojiin Temple is located five minutes to the north of Tojiin Station of Randen Kitano Line. Going through the temple gate and further down the passage, a large bronze statue of Shozo MAKINO will welcome you. This statue which was erected by Shozo Makino Honoring Association in 1957 bears the inscription of his contribution.
---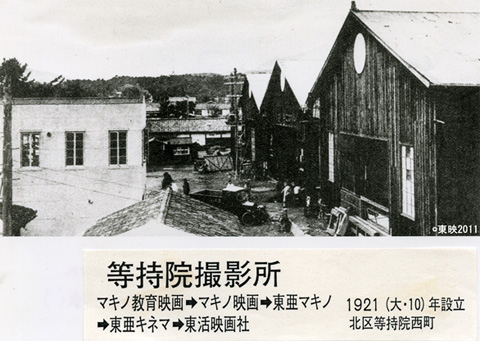 Tojiin Studio
Makino became independent from Nikkatsu Corp. and established "Makino Educational Film Production" in 1921 on the site further down the statue. Today many houses are built on this site. Some of his great contributions include shooting the movie "Honnoji Kassen" for the first time in Japan. Other contributions include discovering the talent of Matsunosuke ONOE and using the trick of disappearance of actors from the screen in Ninja movies. He, as a producer, established the foundation on all aspects and processes of Japanese film making in the movie studio at Tojiin.
He emphasized on the content of story rather than the usual good versus evil type Samurai movies. He selected stories with human touches and brought up Tarokuhei SUSUKI, the first scenario writer in Japan and Itaro YAMAGAMI. Conventional techniques such as shooting from a fixed angle with long footage were improved to shooting close ups and from various angles. Furthermore, other techniques such as producing pictures with shallow contrast but deeper perspective, and editing skills were developed.
---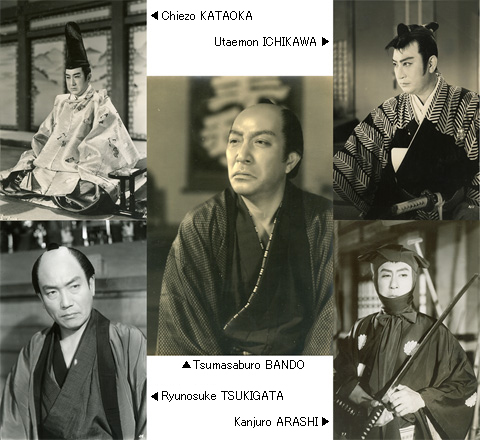 He found a new star, Tsumasaburo BANDO who replaced Matsunosuke ONOE. In contrast to the old Kabuki style, he had a sense of using speed like American movies. After Tsumasaburo BANDO, Makino found other big stars such as Ryunosuke TSUKIGATA, Utaemon ICHIKAWA, Chiezo KATAOKA and Kanjuro ARASHI.
Makino kept sending a new breeze to the movie world. Various talented people gathered around Makino thinking that he would allow them to try new things without being trapped by the conventional methods and ideas. The Makino family, including his son Masahiro MAKINO, was engaged in the movie business and their tombs are located in the premises of Tojiin Temple. The soul of Shozo MAKINO who contributed to the early days of movie production rests in peace here with other family members. If you are involved in movie business or are the lover of Japanese movies, why don't you visit the temple, the sanctuary of movies?
---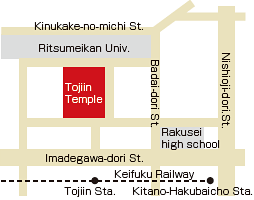 ---

Shozo Makino often cited his three principles of filmmaking: "First, storyline; second, image; and third, action."For Makino, the story was of particular importance as the foundation for cinematography and the actors' performance in the production of the film.
Even today, film industry people in Kyoto hold these principles in high regard as they continue to stand for modern filmmaking.
---