TOP

>

Chapter05 TRACING THE ROOT OF THE MONUMENTS OF SHOZO MAKINO
Kyoto's Film Culture and History
Chapter05
TRACING THE ROOT OF THE MONUMENTS OF SHOZO MAKINO
Matsunosuke ONOE was the first Japanese"Movie Star"(1875 to 1926). He was affectionately called"Medama-no-Macchan"who was loved by children and adults as well. It is amazing that he stared more than 1000 movies. You can see him here.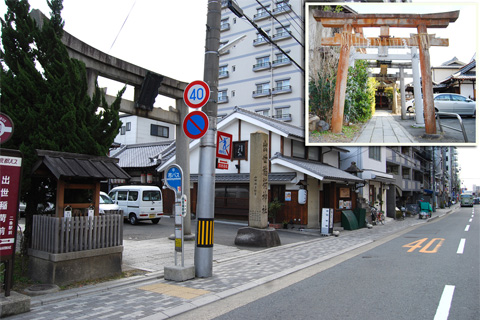 Tracing the root of the monuments of Shozo MAKINO
Place:Nishijin-Senbon - Kitano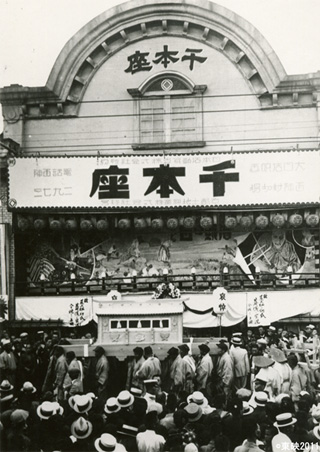 Senbon-za
[Plaque describing "Site of Senbon-za"](Taidokatahara-cho Kamigyo-ku)
Senbon-za is the name of the theatre Makino used to run. Even after he shot the first movie"Honnoji-kassen"at Shinnyodo Temple, Senbon-za was used for the plays and movies.
Regretfully, no trace of that is left today. However, the plaque describing "Site of Senbon-za" is fixed on a street lump post at a spot located in the east side of Senbon street to the north of Ichijo street.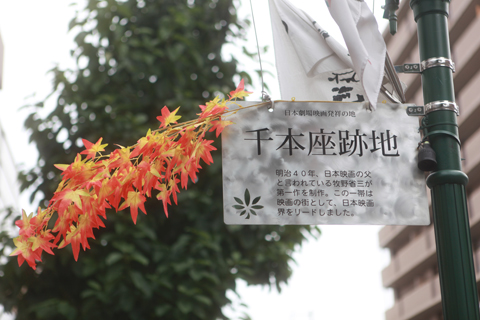 Plate of plaque describing "Site of Senbon-za"
---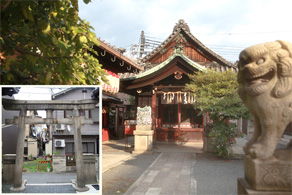 Shusse-Inari Shrine
[Shusse-Inari Shrine](Juraku-cyo Kamigyoku)
Shusse-Inari Shrine is located on Senbon Street. Originally this shrine was constructed by Hideyoshi TOYOTOMI in the compound of his residence and office called Jurakudai. It is also known as the place where people engaged in the movie business often visit for their career success. The shrine has a stone torii gate and stone pillars donated by Shozo MAKINO and Matsunosuke ONOE with their names engraved on them.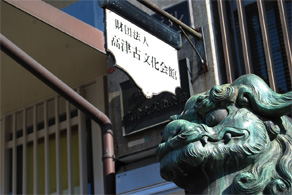 Kozu Old Art Museum
[Kozu Old Art Museum](Okamino-cyo Imadegawa Tenjinsuji Sagaru Kamigyo-ku)
Have you seen the name "Kozu Shokai" in the cast of a movie shown at the end? Kozu Shokai, an old company dealing with arts and garments for movies, played an indispensable role in Japanese movies especially in the period dramas by lending out props. The Kozu Old Art Museum has a big collection of precious fine art objects from all over Japan. The museum holds exhibitions in spring and autumn displaying some items such as armors, swords, paintings,ceramics, kimono and other important cultural objects.
URL:http://www1.odn.ne.jp/kozu-kobunka/
There is a noodle (udon) restaurant Across Imadegawa Street from Kitano Tenmangu Shrine to the south called "Ippon Udon Tawaraya". Shozo MAKINO and other staff would often visit this restaurant. Even some books have described this stately building which is believed to have been constructed in Edo Period. The building itself and the thick noodle it serves, reminds us of its history.
---

---

Kozu Shokai, a major prop rental company in Kyoto, dates back to the establishment of the Yokota Shokai/Hokkedo Studio in the north of Kyoto in 1912.
On his way to the studio, film director Shozo Makino used to take a shortcut through the yard of a secondhand shop run by Umejiro Takatsu. He would often stop to ask Takatsu if he could borrow things that were lying around to use in his films. As the two got to know each other better, Makino's requests became increasingly professional.
As the requests for more realistic props increased, Takatsu's son Yoshiie traveled to various Parts of Japan in search of items that would fit the bill and the secondhand store grew into a ull-fledged prop rental company.
---