TOP

>

Chapter04 A BUST OF MATSUNOSUKE ONOE
Kyoto's Film Culture and History
Chapter04
A BUST OF MATSUNOSUKE ONOE
Matsunosuke ONOE was the first Japanese "Movie Star"(1875 to 1926). He was affectionately called "Medama-no-Macchan "who was loved by children and adults as well. It is amazing that he starred more than 1000 movies. You can see him here.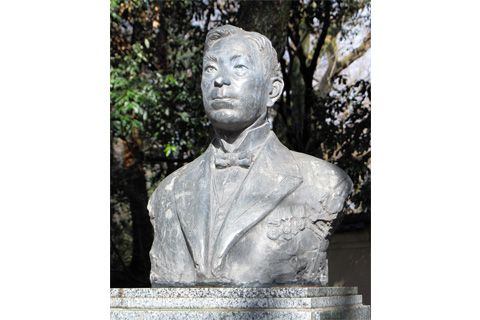 A Bust of Matsunosuke ONOE
Place: Aoi Park(Shimogamo-Miyagawa-cho Sakyo-ku)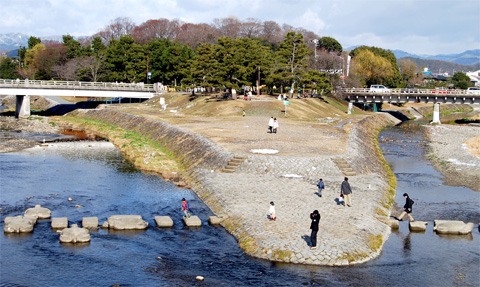 Kamo River provides people with rich water, beautiful scenery and serves pleasure.The bust of Matsunosuke ONOE with his large eyes is installed in Aoi Park in Demachi-yanagi, the confluent point of Kamo and Takano Rivers. It was installed by Torazo NINAGAWA, the governor of Kyoto Prefecture in 1966.
Matsunosuke was loved by many people. When he died at the age of 50, the extra free edition of newspapers were distributed. A record shows that 200,000 people came to the street to morn his death at the funeral parade. He donated the money he had earned by acting to Kyoto Prefecture, Kyoto City and some other organizations for such purposes as building houses for poor people. His attention was always focused on general public even outside the movie world.
His life was greatly influenced by Shozo MAKINO. It was Makino who brought him into the movie and acting. His debut movie was "Goban Tadanobu" in 1909. After that he collaborated with Makino of Yokota Company and continued acting in the movies which appealed to the general public and won an explosive popularity. Young boys were especially crazy about movies depicting Ninja art by Tatsukawa Bunko publishing company.
While acting, Matsunosuke also served as the director of the Nikkatsu Taishogun Studio. He was the first actor who also was an executive manager in Japan. However, long years of hard working ruined his health. His precious life was eventually ended in 1926, at the age of 50. He who always kept feeding people with entertainment through his movies is left deep in the hearts of people.
---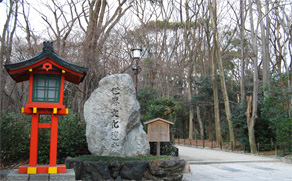 Tadasu Forest
Heading to the north from Aoi Park, one can find a vast primeval forest which makes you forget being in the middle of a city. This is the Tadasu Forest, the premises of Shimogamo Shrine( Kamomioya Jinja).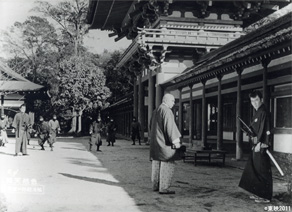 [Nemuri Kyoshiro Sappocho]
(Nemuri Kyoshiro Deadly Sword)(1963)
Tadasu Forest has been frequently the locations of many movies.
From 1923 to 1974, there was a movie studio in Shimogamo-Miyazaki-cho located in the east bank of Kamo River. In Taisho Era it was called "Shochiku Shimogamo Studio" and later in Showa Era called "Shochiku Kyoto Studio". Kinuyo TANAKA and Chojiro HAYASHI(who later changed his name to Kazuo HASEGAWA)debuted here.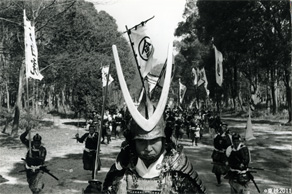 [Tokugawa ichizoku no Hokai](1980)
Today nothing remains on the site of the studio. Surrounded by the beautiful scenery of Kamo River and Tadasu Forest, the place must have been crowded with people engaged in movie production.
---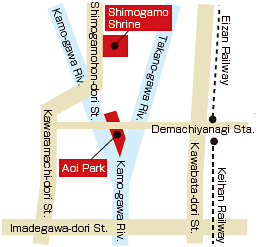 ---

Matsunosuke Onoe became Japan's first film star because his fluid movement was more suited to film than the formalized movement employed in stage drama at the time.
In those days, theater was mainly associated with kabuki, which featured slow and formalized movement. By contrast, as the term "motion picture" suggests' the most interesting films were those that featured fast and active movement.
Matsunosuk e was agile, capable of handling visually eccentric choreography(keren), such as midair stunts and quick changes. Shozo Makino took notice of him because already in the early years of his career, the pioneer film director had been aware that motion pictures required actors to employ a different kind of movement.
---