TOP

>

Chapter03 THE REMNANT SITE OF NIJO CASTEL STUDIO
Kyoto's Film Culture and History
Chapter03
THE REMNANT SITE OF NIJO CASTEL STUDIO
In 1910, Einosuke YOKOTA established Yokota Company with the collaboration of Shozo MAKINO and opened the first movie studio in Kyoto.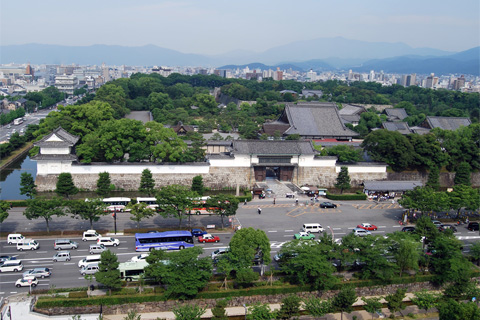 The remnant site of Nijo Castle Studio
Place: The southeast corner of Nakagyo Junior High School
(Nishinokyo Hokusei-cho Nakagyo-ku)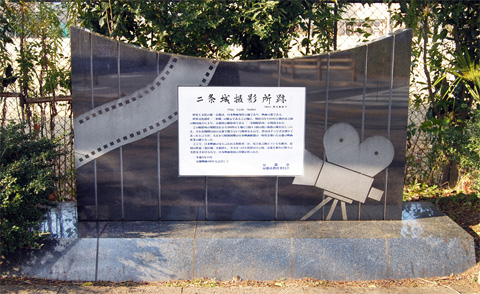 The remnant site of Nijo Castel Studio monumental rock
Nijo Castle, one of the most popular tourist destinations in Kyoto is designated as a World Cultural Heritage site. Surprisingly, the first movie studio in Kyoto was constructed in the place across the street from the west-south corner tower of Nijo Castle. Therefore, the studio was generally called "Nijo Castle Studio". However, this is not the official name of the studio and it never had an official name. The area of the studio was about 990m2 with a simple wooden stage of about 26m2 covered by a tent. They used framed picture screens as the backdrop of the stage.
Since there was no lighting system at that time, shootings were conducted under the sun light. Since the camera was fixed at one spot, they could manage shooting in such a small place. Today,a monumental rock on which as "Site of Nijo Castle Studio "is engraved stands there which was erected by the Kyoto City and its Board of Education.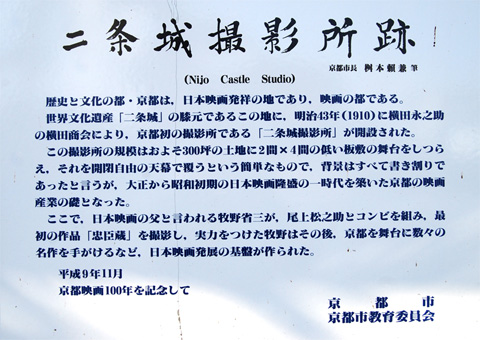 ---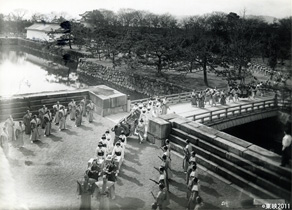 [Chushingura](A Tale of Royal Retainers)(1959)
Nijo Castle has been the location of several movies such as "Gohatto" in 1999 directed by Nagisa OSHIMA, starring Beat Takeshi, Ryuhei MATSUDA, and other actors. When the studio was functioning, many movies must have been shot around Nijo Castle.
A year later, the Nijo Castle Studio was closed because it was too small. In January 1912, Hokkendo Studio was constructed in the north of Junyoji Temple located in the south of Kitano Tenmangu Shrine. Makino produced many movies with the actor Matsunosuke ONOE in this studio. Today, no sign of that studio is left there.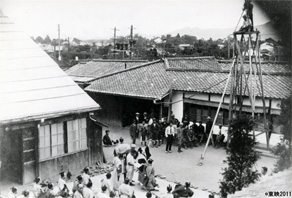 Nikkatsu Taishogun Studio
In 1918, Hokkendo Studio moved to Taishogun Ichijo-cho, Kita Ward and was renamed as "Nikkatsu Taishogun Studio". It grew larger and became well equipped. Thus movie industry began to take root in Kyoto.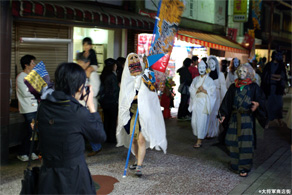 Taishogun Shopping Arcade
Taishogun- Hachi Shrine on the Ichijo Street near the studio is surrounded by stone fences. Some of these stones next to the torii gate were donated by Shozo MAKINO and Matsunosuke ONOE with their names engraved on them.
In Heian Period, Ichijo Street was famous for ghosts who would form a line walking there at night. Recently people of Taishogun Shopping Arcade changed the name "Ichijo Street" to "Ghost Street". They use ghosts and ghost related events for revitalization of the area. It must be fun to walk on the street occupied by ghosts.
---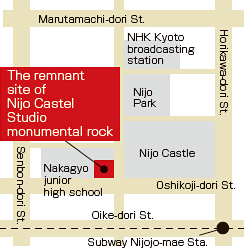 ---

The making of motion pictures is the art of blending light and shadow. It is therefore of critical importance to control light in filmmaking.
This is why film studios were established. The history of film production, especially in Kyoto, shows that film studios played a very important role. In the golden days of Japanese film (the late 1950s and early 1960s), film studios handled all the work required for film production. Hence the term "studio system, "under which the studio not only performs all core filmmaking work, but was also responsible for developing human resources and handing down filmmaking techniques from generation to generation.
---