TOP

>

Chapter01 THE BIRTHPLACE OF JAPANESE MOVIES
Kyoto's Film Culture and History
Chapter01
THE BIRTHPLACE OF JAPANESE MOVIES
In the 19 century, when the Meiji Restoration was over, people worked hard to create a new Japan. In such a time, people must have been surprised and thrilled by seeing projected the moving image on the screen. Kyoto is the first place in Japan that enjoyed such thrill and sensation.

The Birthplace of Japanese Movies
Place:Former Rissei Elementary School
(Bizenjimacho Takoyakushidori Kawaramachi Higashiiru Nakagyoku)
In February 1897, Kyoto Dento Co. (a predecessor of Kansai Electric Company and Keihuku Railroad Company) were the pioneer who experimentally projected for the first time a cinematography invented by Lumie're brothers, on the screen in the courtyard of their company building. It was snowing on that day.
Thanks are due to Mr. Katsutaro INABATA, a businessman and the chairman of Osaka Chamber of Commerce and Industry who introduced to Japan cinematography as early as two years after its invention. When he visited France on business and to see the World Exposition, he found that Lumie're brothers, his classmate in France had invented cinematography. He bought a set of filming instruments and obtained the rights to show the film and brought them home. It is believed that Shimadzu Company manufactured a stepdown transformer for the experimental screening. Today a signboard is erected with the description of this event at the spot where the Japanese visual media originated from.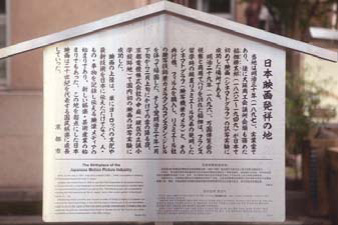 "The Birthplace of Japanese Movies" signboard
---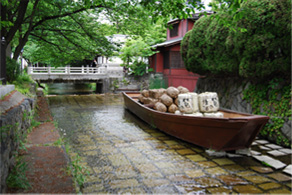 Ichino Funairi
When you walk to the north from this point along Takase Canal while enjoying the scenery, you will find that this area has often been used as the filming location for movies and TV dramas.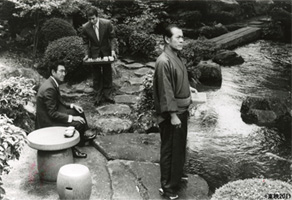 "Seiha(The Conquest)"(1982)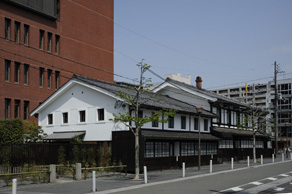 SHIMADZU Foundation Memorial Hall
If you walk further north, you will reach the starting point of Takase Canal called Ichino Funairi. Next to this point one can find SHIMADZU Foundation Memorial Hall which is owned by Shimazu Manufacturing Company who manufactured step down transformer.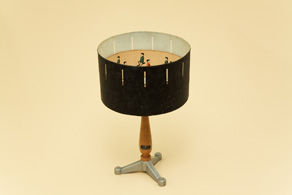 <Stroboscope>
This instrument is the simplest form of motion picture(movie). The observer looks through a slot at a rotating disc with holes. When the slots are aligned, the picture which is located behind the disc is observed as moving.
SHIMADZU Foundation Memorial Hall shows the transition of the company from the time it was founded in 1875 to the time when Mr. Koichi TANAKA, a scientist of the company won the Nobel Prize. The scientific and educational materials exhibited here are particularly worth seeing.
---

---

In the golden years of Japanese film from the late 1950s to the early 1960s, the Kiyamachi area was dotted with inns where screenwriters stayed and worked. The hotel that one of Japan's top film directors, Masahiro Makino (1908-1993) regularly stayed at was also here. The area was also known for the many bars where movie people hung out. Even today, traces of the era can still be seen.
---